Trails
(9 / 12)
A

Agua Viva

B

Golondrina

I

Manantiales

I

Manzanito

A

Nevada

B

Osito

I

Parva Chica

I

Piuquenes

X

Vegas

A

Hoya Vegas

A

Paloma

X

Snowpark
Lifts
(12 / 13)
Alpha
Franciscano
Golondrina
Las Aguilas
Las Tortolas
Las Vegas
Manzanito
Nevada
Osito
Parva Chica
Piuquenes
Valle de Fabres
La Paloma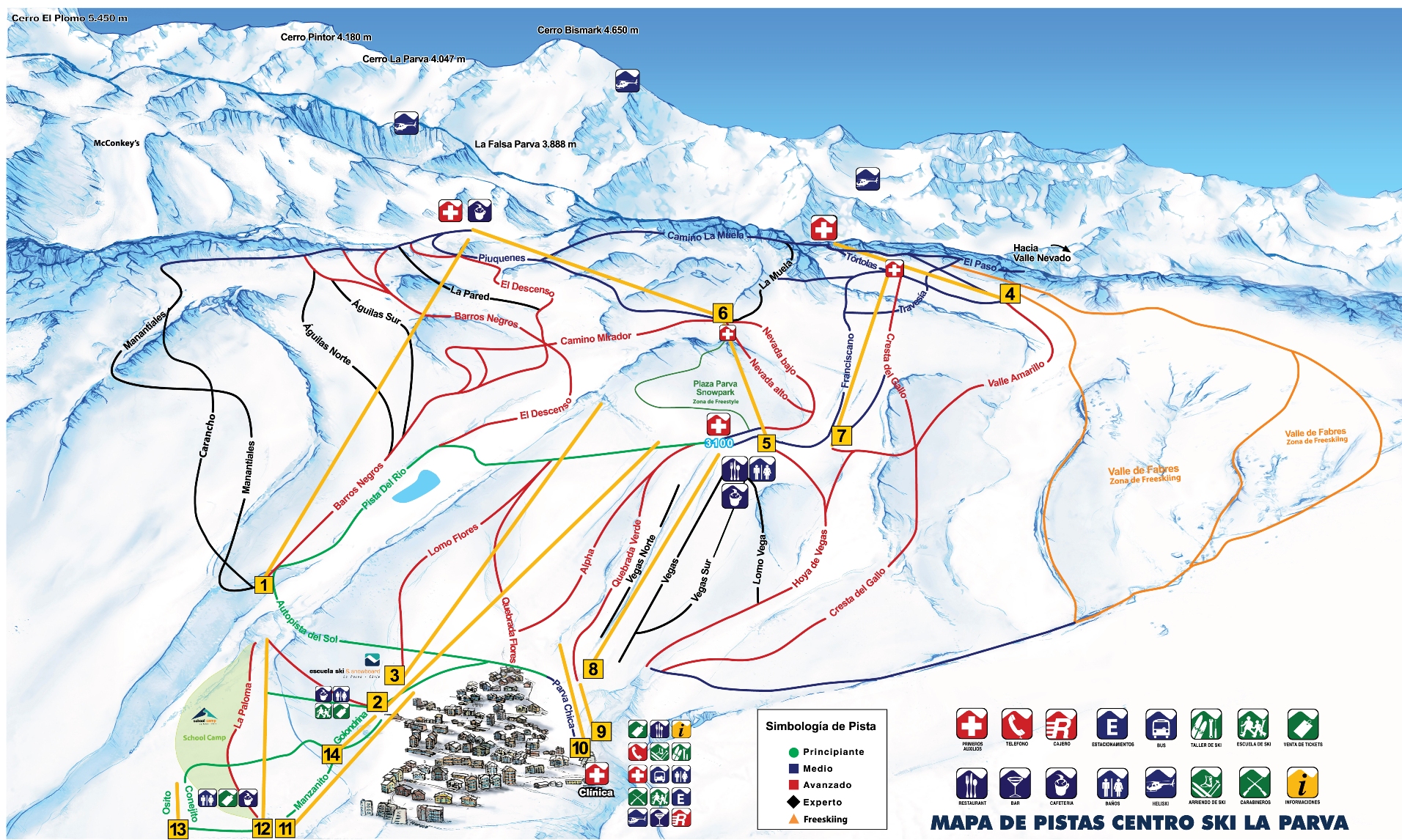 Trails Information
Over the years La Parva has stood out for having a double inclination in a large part of its land, which will always leave one foot more tired than the other (although it corresponds to lifting the trails). Within its approximate 550 acres the blue and red slopes predominate. In general terms, la parva has two bases: la parva chica, with intermediate tracks and Golondrinas, which is where the ski school is and there are many beginner tracks in the surroundings.
As I mentioned earlier, 75% of the resort's skiable area belongs to the intermediate ground (blue and red lanes) and the fun is that almost all cable cars provide access to these types of tracks, so if you are intermediate you will not be bored easily. Even some of the black tracks that you will find among the red ones could be suitable for advanced intermediaries.
For sectors for advanced skiers, in La Parva we will certainly find better off-piste access compared to Valle Nevado or El Colorado. Not all black tracks are trodden and therein lies the biggest difference in terms of difficulty. One of the best places within reach of the cable car, is certainly the Águilas area, going up in the cable car leaving from the left side towards manantiales.
With the opening of the new chair, Valle Fabres gives access to land that previously could only be accessed by walking or crossing other resorts. This area is largely preserved in its natural state, so only some areas are trodden while the vast majority are not. This is definitely the place to go on a powder day. Valle Fabres is not particularly steep, but the fun is its natural terrain, where we find natural gorges and rocks to jump, among others.
The wonders of La Parva are literally steps away from the resort. To get to them you need to take small or long walks, depending on where you go. There are many cornices and culoirs as well as tight throats that will test your ability to hold your head in place without being terrified. Recommended McConkey and La Chimenea. It requires excellent physical condition and an even higher level of skiing, but the reward will be the best snow you'll ski in La Parva.
As la parva is a family-run ski resort, there are many special tracks for the little ones to learn, especially in the Golondrinas area where 3-year-olds can enter (and I've seen younger too) as well as beginners a little older.